From Gander, we drove to Twillingate, also known as the Iceberg Capital of the World.
Although we were told that the size of the moose population in NL is so huge it's a problem, we still had to spot our first moose.  Chicken though, found one that would give him a ride.
As we got closer to Twillingate, we started spotting icebergs, they were much easier to find than the moose!
Of course, Twillingate has its own lighthouse
The town of Twillingate is located on Twillingate island, in Notre Dame bay.  The town's population is about 2,448 people, according to Wikipedia.  People here used to fish for a living, but after the collapse of the cod fisheries, they are now relying on tourism as the main source of revenues.  We had a great time at a dinner theater called "All around the circle" in Crow Head's community center.  The 6 performers cooked dinner for about 150 people and after serving us, went on the stage and performed a mix of comedy, vaudeville and songs for our great pleasure 🙂
The day after we arrived, we drove down the island, to see what we could see.  Each turn in the road brought a new vista.  We could not imagine a more picturesque area.
We drove to a place called Herring Neck, and the road dead-ended in this guy's driveway.  After talking to him for a little while, I just had to ask permission to take a picture of the view he has from his driveway…
Along the way, Chicken found himself the perfect little house
Even a pile of garbage looked picturesque in these surroundings
We saw a lot of little fishing shacks with piers along the way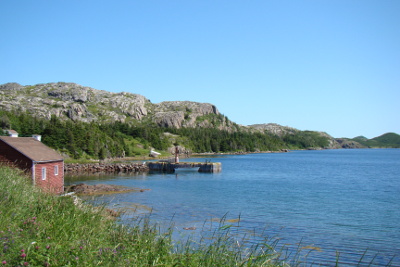 And old boats that looked abandoned
Even whale skeletons!
And some of the most amazing wild flowers, like these wild iris growing near a little pond.
And these gorgeous pink ones, growing in a field.
I climbed a trail up a small mountain in Pikes Arm and the view took my breath away (the climb did too by the way)
Back in Twillingate, we went to the beach to wait for the sunset
And of course, seen along the way…