Halifax, Nova Scotia
We had to go to Sydney NS in order to take the ferry to Newfoundland, on the way, we stopped in Halifax for a quick visit.
The "lobster-lovers" in our group decided it would be a good idea to have a lobster dinner.  The campground owner highly recommended a lobster market near Peggy's Cove, a 20 minutes ride from the campground.  While Chicken waited by the water, admiring the view, the "lobster-lovers" made their choice.
How big is big enough?  Does size really matter?  …. Seems to, because the sheer size of this lobster saved his life…  None of the "lobster-lovers" thought they could eat that much lobster in one sitting.
So, the owner of the shop presented other choices.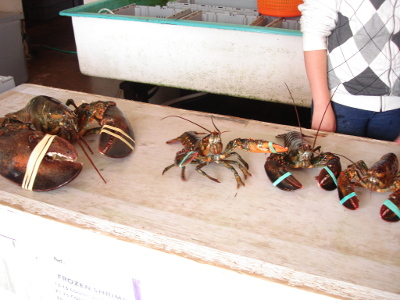 The smallest one, although he looked quite feisty,  was nicknamed "Wimpy" because of his size.  He was a pound and a half lobster and became Bear's dinner.  The others ordered 2 pounders.   We brought them back to the campground where the owner graciously cooked and cracked them for us.  (When I say us, I don't include myself, I ate delicious Nova Scotia scallops that night).
We visited Halifax harbour where we saw some interesting and beautiful ships.
We  savoured an ice cream at Cow's.  Bad for the waist, but good for the soul.
Surprise!  Surprise!  Halifax had been yarnbombed!
Of course, the perpetrator had left her card…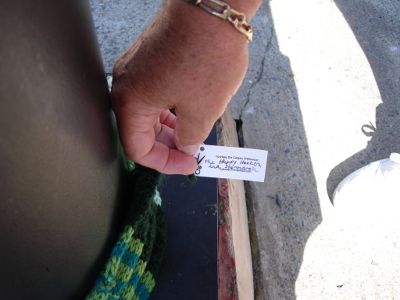 The next day, our traveling friends had bought tickets for the Halifax Tattoo, but since we had seen it the last time we were here, we'd elected not to go.  Bear had promised me a surprise instead.  I tried my best to get him to tell me what it was, but he holds secrets better than Fort Knox, so I had to wait.
We took the car and made our way to Dartmouth.  Do you know that they have parking for fiddles in Dartmouth?  If you don't believe me… just look:
Anyway, to get back to my "surprise" story.  All of you know I am knitting right?  I'm quite passionate about it and I love taking classes.  There are some people I really admire in the "knitting" business and I try to take classes from as many of them as possible, both to perfect my knowledge and advance my knitting skills, and also because it's  just  cool to  be around one of them for a while. (Ok I'm a knitting groupie…there… I said it.. )
One of these people I'd always dreamed of taking a class from,  is Lucy Neatby.  She is originally from Scotland and used to be a Navigational Officer in the  Merchant Marine.  She took up knitting after having children, because, as she said, at least with her knitting she had a sense of accomplishment at the end of the day.  Needless to say, she became a very skilled, knowledgeable knitter.  Her designs are always very clever.  She also made instructional DVDs that are the best on the market.
So, when he took me to Dartmouth that morning, I thought he'd found out at which yarn shop Lucy Neatby likes to go hang out and that maybe I would be able to catch a glimpse of her… just maybe.. if she was in town and not teaching somewhere in the US or in Canada.
Imagine my surprise when my dear hubby took me to a residential area instead of a commercial area…  I was really confused and didn't know what to think…
Then he parked the car in front of a cute little house, and went knocking at the door…   And Lucy Neatby came and opened the door… and at that moment, I lost all brain function!  I was star-struck .   There I was, at Lucy Neatby's house where she graciously invited us for tea.  I HAD  AFTERNOON TEA AT LUCY NEATBY'S HOUSE!!!!!!  We also visited her basement studio and I purchased a few things…  like yarn, patterns,  you know…..  Anyway, this is me and Lucy 🙂
As it turns out, my dear hubby had been conspiring with Lucy, by email, since last October in order to surprise me like this.  That's a lot of "good-hubby points" in the bank for him…  What a sweetheart!  I will never forget it!
Of course, we had to leave Lucy's house and go back to the coach to prepare to leave for Sydney.