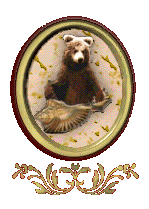 Welcome To The World Of
Bearchele
~~~~~~~~~~~~~~~~~~~~~~~~~~

he Tale of Sir Bear and Lady Frog
~~~~~~~~~~~~~~~~~~~~~~~~~~~

nce upon a time, some eight and forty months ago, there lived a Bear and a Frog. The Bear lived deep in the south, in the land of blue seas and waving palms, and the Frog lived far to the north, where the snow falls soft on winter mountains.

n his den in the land of perpetual summer, the Bear happened upon a magic key(board) to the enchanted Cyberspace Forest; far away, the Frog sat on her cool lily-pad in the high Laurentian Lakes, and lo! She too found a magic key(board), and wandered enthralled into that same enchanted forest.

nd there in the enchanted Forest of Cyberspace they met, gentle Sir Bear, whose name is Chief Bear, of Florida, and sweet Lady Frog, whom we know as the lovely Michele of Quebec, and they did chat long. They met often times in that magical forest, in the mists of cyberspace, and they did become firm friends, for he was a bear of concept, and she was a frog of the artistic type, and they did find this a most creative joining of souls.

ne day, at last, in the balmy air of sweet summer, they met, Sir Bear and Lady Frog, face-to-face in that place known as the Real Time. And that meeting was fruitful, and from it came a Baby, a computer, which they made from parts, creating it through the magic spells of Technology. And the wife of Sir Bear, the good Lady Small Bear, looked upon this Baby and loved it, and adopted it forthwith, and bestowed upon it the name "Bearchele".

t the behest of Sir Bear, they each created another brainchild, and these were spun into the pages of the Enchanted Web; these pages grew and grew, and in them were found such delights as graphics, and PSP Tutorials, and treasures of the Native Americans. So much did these pages grow that Sir Bear and Lady Frog decided to incorporate their talents, and joined forces, and they did take upon this union the name of their first creation, "Bearchele".

o their web-pages they did spin together, and the pages did become so great in size that they were perplexed, and wondered what they should do. They sat and thought, he in his den and she on her lily-pad; they thought and sat, did Sir Bear and Lady Frog, and even consulted wise Sir Nerlin the Net Wizard. And then one day, in a flash, like the shooting of a star, it came to them!

n that flash as of a falling star they saw what they, this Regal Pair, must do: they would together have their own kingdom, their own domain. And it came to pass that they built this kingdom, this domain, and they named it Bearchele.com, and it was good.

nd so, Dear Reader, the gentle Sir Bear and the sweet Lady Frog settled into that new kingdom, the domain of Bearchele.com, and there they do dwell, happily ever after.


he Rest Of The Story:




nd it came to pass. That it was indeed a new beginning. In the year 2000, the good lady Smallbear passed away and crossed the river to the spirit world leaving Sir Bear alone. That same year, the lady Frog, became free also.

fter being so close for such a long time, talking in cyberspace for 6 years, it would only stand to reason that they should become closer and live as one. Lady Frog left the cold of Canada and moved south to Florida where;

n December 22nd year of our Lord, two thousand and one, these two, Sir Bear and the Lady Frog were married on the foundation of their new home in Florida.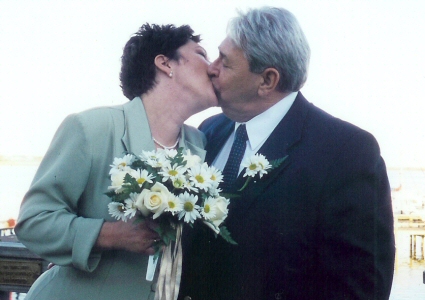 he home is finished and there they intend to live out their lives in happiness and harmony. Pictures of the new home can be seen using the "Home Pics" button below.




ut Wait, is this the end of the adventure???????????





New Baby?????????










Please check out the new pages in the "Blogaroo"








Thanks and do come again.