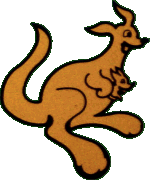 White Sands

At the northern end of the Chihuahuan Desert lies a mountain-ringed valley, the Tularosa Basin. Rising from the heart of this basin, is one of the world's great natural wonders, the glistening white sands of New Mexico. Wave-like dunes of gypsum sand have engulfed 275 square miles of desert and have created the world's largest gypsum sand dune field. Slowly but relentlessly, the sand, driven by stong southwest winds, covers everything in its path. This basin is bordered by the San Andres and the Sacramento mountains.
Sur le côté nord du désert Chihuahuan s'étend une vallée, le bassin the Tularosa. Au coeur de cette vallée se trouve une des merveilles naturelles du monde, les sables blancs du Nouveau-Mexique. Les dunes de sable de gypse s'étendent sur une superficie de 275 milles carrés formant le plus grand champs de dunes de gypse au monde. Lentement mais surement, le sable, poussé par des vents forts, couvre tout sur son passage. Ce bassin est bordé par la chaîne de montagnes San Andres d'un coté et Sacramento de l'autre.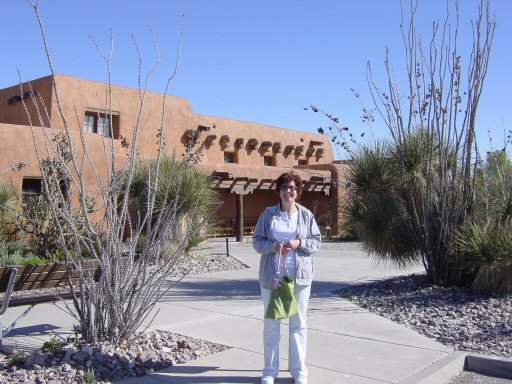 White Sands Park Welcome Center
Le Centre d'accueil du Parc White Sands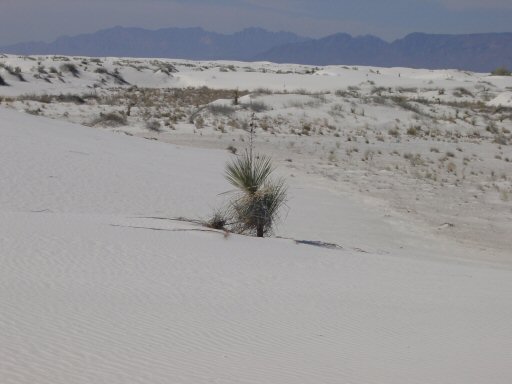 The Soaptree Yucca adapted to the life in this desert. What seems to be a 3 foot high Yucca plant on top of a 30 foot high dune is in fact a 33 foot high Yucca, rooted at the bottom in the desert soil.
Quelques plantes comme ce Soaptree Yucca se sont adaptés à la vie dans ce désert. Ce qui semble être une plante de 3 pieds au sommet d'une dune de 30 pieds est en fait une plante de 33 pieds, enracinée sous la dune, dans le sol du désert.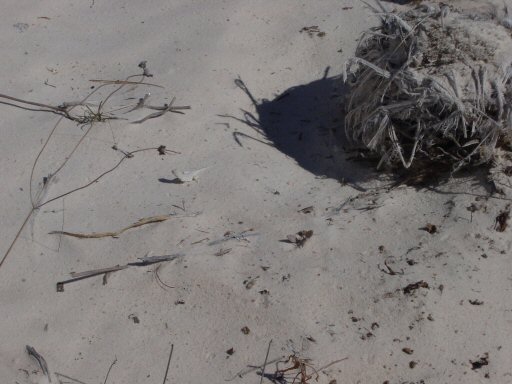 Look closely, there is a little white lizzard in this picture. Some animals like this bleached earless lizzard have adapted to the life in this desert and are making themselves less obvious to predators by blending with the surroundings.
Regardez bien, il y a un petit lézard blanc dans la photo. Des animaux comme ce petit "bleached earless lizzard" se sont adaptés à la vie dans ce désert en changeant de couleur pour être moins visible pour ses prédateurs.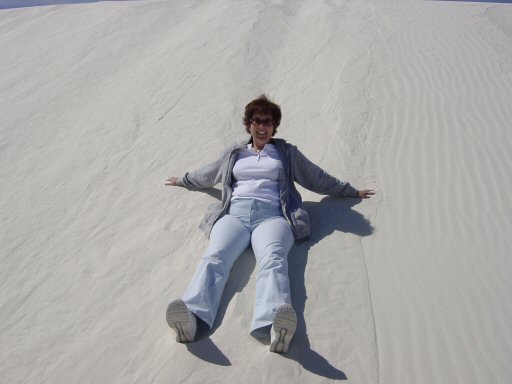 Sliding down the sides of high dunes is a favorite activity for kids like me LOL
Glisser sur les pentes des dunes de sable est une activité favorite des enfants comme moi! HI HI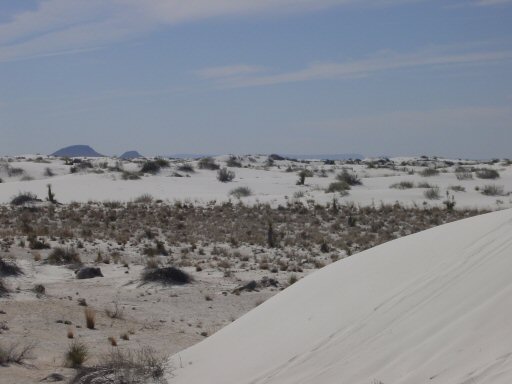 This inter-dune area is home to a lot of life, most of which hides during the hot hours of the day and comes out during the night.
Cette zone inter-dune est l'hôte d'une variété d'animaux qui se cachent durant les heures chaudes de la journée pour sortir le soir.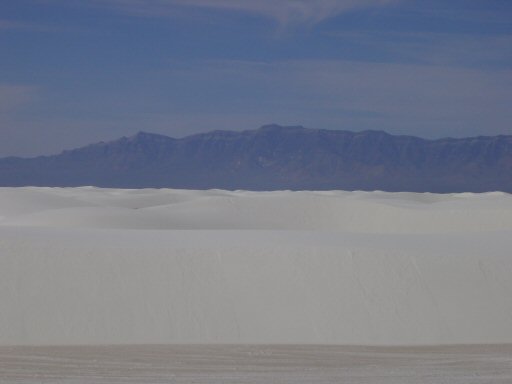 The deeper you go into the park, the less plant life you can find, this is due to the fact that these dunes, being blown by the strong winds, move by about 10 feet a year, too fast for any plants to root or grow without being smothered.
Plus on s'enfonce dans le parc, le moins on peut observer de plantes, les dunes avancent d'environ 10 pieds par année, poussées par le vent, et les plantes qui essaient de pousser se retrouvent enfouies rapidement.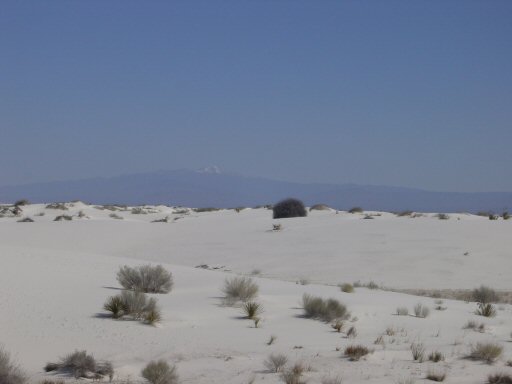 From a sea of white sand rises high mountains, covered by tall pine trees and eternal snow. The ride from the desert to the snow coverd peaks takes about an hour.
De cette mer de sable blanc émergent de hautes montagnes, couvertes au sommet par des forêts de pins et des neiges éternelles.
We spent half a day at White Sands Park and then headed up the mountains.
Nous avons passé une demi-jourée au parc et ensuite nous nous sommes dirigés vers les montagnes.

Back to Postcard index page
Retour à l'index