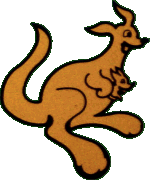 The Painted Desert and the Petrified Forest
Le Désert Peint et la Forêt Pétrifiée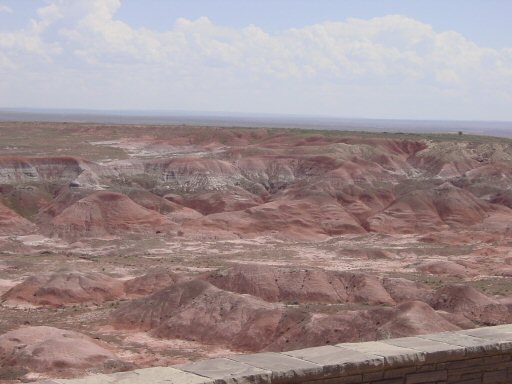 Colorful mesas, buttes and badlands compose a natural work of art, the Painted Desert. Wind and running water cut these features from the Chinle formations deposited over 200 million years ago, when this area was a vast inland basin near sea level. The colors are due to ancient environmental conditions in which the sediments were originally deposited as well as the type of minerals present in the rocks. Beside being colorful, the Chinle Formation contains a valuable fossil record of late Triassic plants and animals.
Le Désert Peint est une oeuvre d'art naturelle formée de buttes et de roches. Le vent et l'eau ont coupé ces formations du Chinle déposé il y a plus de 200 millions d'années quand cette région était un grand bassin interieur au niveau de la mer. Les couleurs sont dues aux conditions dans lesquelles les sédiments se sont déposés ainsi qu'au type de minéraux qui composent la roche. En plus d'être colorée, la formation de Chinle contient de précieux fossilles de plantes et d'animaux de la fin de l'ère Triassique.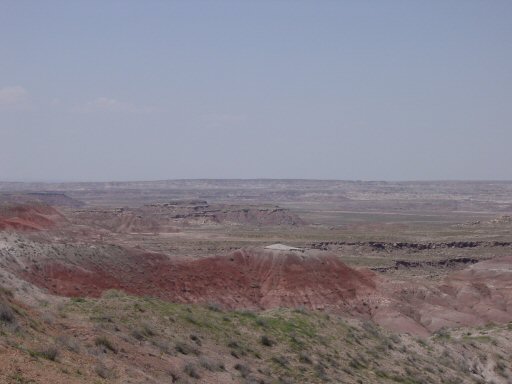 We nicknamed that formation "the Jewish Hill", guess why... LOL
On a surnomé cette butte "La butte Juive", devinez pourquoi... Hi Hi Hi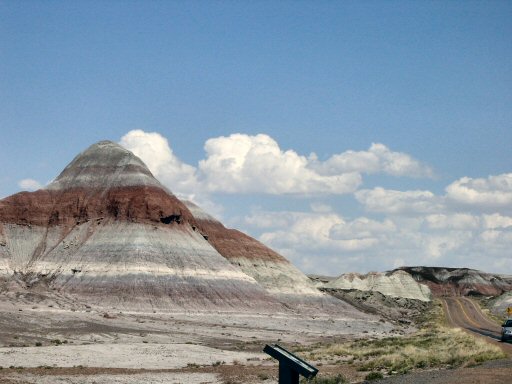 These formations are called Teepees, probably because they resemble Indian Teepees.
Ces formations sont appeleées Tipies, probablement parce qu'elles ressemblent à des Tipis Indiens.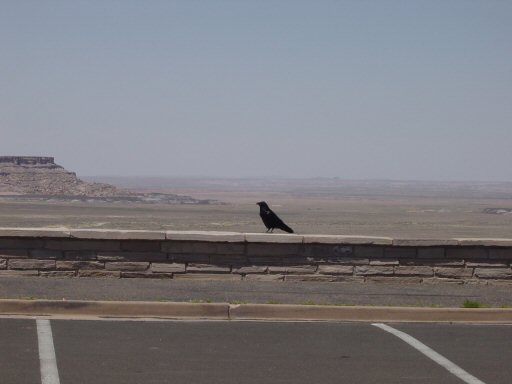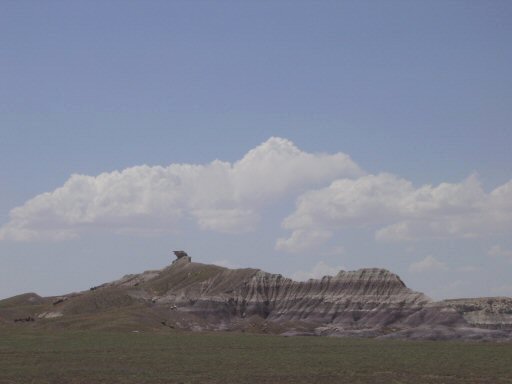 The Raven inhabit this desert, somehow I thought the rock formation on the second picture looked like a Raven's head.
Le Raven habite ce désert, étrangement, la formation rocheuse dans la seconde photo ressemble à une tête de Raven.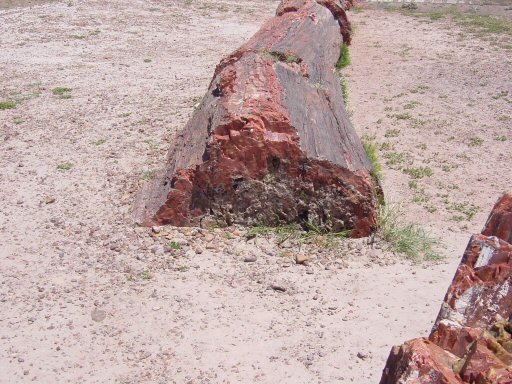 225 million years ago, tall trees fell and were washed by swollen streams into the floodplain. Silt, mud and volcanic ash covered the logs, cutting off oxygen and slowing the decay of the logs. Silica-laden groundwater seeped through the logs and replaced the wood tissues with silica deposits. As the process continued, the silica crystallized into quartz and the logs were preserved as petrified wood.
Il y a de ça 225 millions d'années, de géants arbres tombèrent et furent transportés par des courants d'eau torrentiels, pour enfin se déposer dans la plaine. Des boues volcaniques couvrirent les troncs, coupant l'oxygène et ralentissant leur décomposition. L'eau de surface, saturée de silice, pénétra dans les fibres des troncs et y remplaça la cellulose. Le procédé continua jusqu'à ce que le silice se transforme en cristaux de quartz, préservant le bois en le pétrifiant.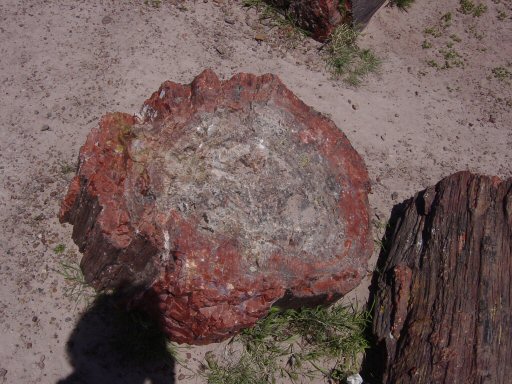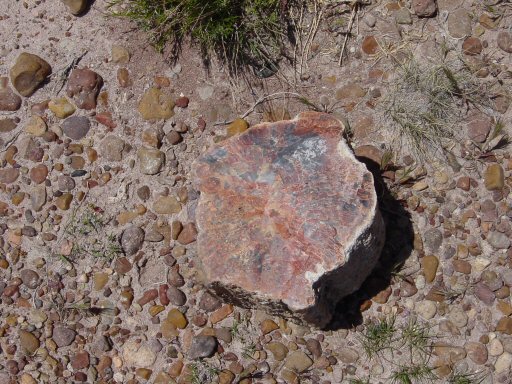 Petrified wood's varied colors comes from minerals in the silica-saturated waters. Iron, carbon, manganese and sometimes cobalt and chromium produced patterns and blends of yellow, red, black, blue, brown, white and pink. Petrified wood is surprisingly heavy, weighing nearly 200 pounds per cubic foot and its hardness is seven on a 10 point scale.
Les couleurs du bois pétrifé sont causées par la contamination minérale de l'eau saturée de silice. Des minéraux tels que le fer, le manganèse, le carbone et quelquefois le cobalt et le chromium ont produits des mélanges de jaunes, rouges, noirs, bleus, bruns, blancs et roses. Le poids du bois pétrifié est surprenant, pesant jusqu'à 200 lbs le pied cube et sa dureté est 7 sur une échelle de 10.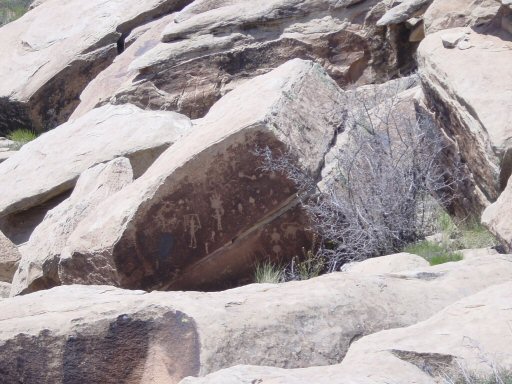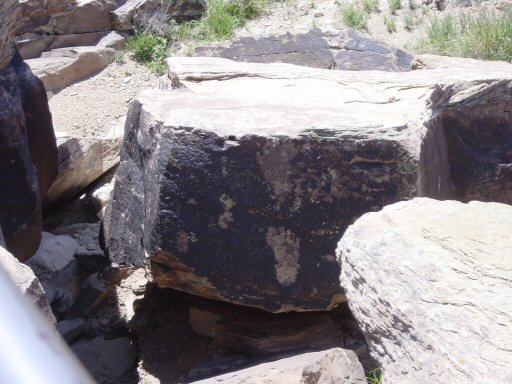 Ancient petroglyphs, these near the ruins of Puerco Pueblo, are found throughout the Park.
On peut trouver des pétroglyphes anciens un peu partout dans le parc. (Ceux-ci se trouvent près des ruines de Puerco Pueblo)

Back to Postcards index page
Retour à l'index